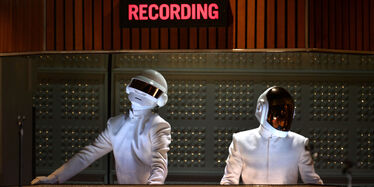 Daft Punk returned to the 56th Annual Grammy Awards in 2014 when they were nominated for Random Access Memories. They performed alongside Pharrell Williams, Stevie Wonder and Nile Rodgers.
The performance began with Pharrell and Stevie Wonder trading verses, Daft Punk not visible on stage. At about three minutes in, at the back of the fake analog studio set-up, a black screen disappeared, revealing Daft Punk manning the DJ decks in Grammy's exclusive all white outfits and helmets. [1]
The song was a mash-up of  "Get Lucky," "Harder, Better, Faster, Stronger," "Around the World", Chic's "Le Freak", and Stevie Wonder's "Another Star".
Video
References