This article is about the tour, not the album. for the album, see Alive 2007 (album).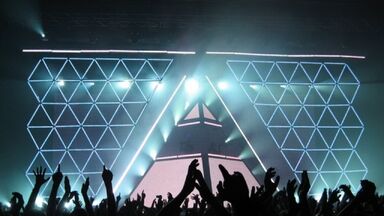 Alive 2007 is the name of the worldwide tour Daft Punk went on in 2006-2007, and also the name of the live album it is recorded on.
While the 2006 concerts were not given a formal title, the 2007 performances were advertised as "Alive 2007". The 2006 performances and 2007 tour as a whole was later retroactively named "Alive 2006/2007".[1]
The tour was met with praise and critical acclaim. The Times described Daft Punk's set as a "memorable sensory spectacle, both dazzling and deafening".[2]
The visuals of the tour were set up by XL Video.[3] The company provided eight-core Mac Pro units running Catalyst v4 and Final Cut Pro. Daft Punk approached the company with their visual concept for the shows. "They came to us with a pretty fixed idea of what they wanted", said head of XL Video, Richard Burford. "They wanted to mix live video with effects. Using the eight-core Mac Pros, we were able to take in eight digital sources and treat them as video streams. Then they could use Catalyst to coordinate the video with lighting effects and add their own effects in on the fly. The final digital video streams ran to LED screens."[3]
At the start of 2006, Daft Punk announced plans for a number of special summer shows. On April 29th, Daft Punk performed at the Coachella Valley Music and Arts Festival where they received an overwhelmingly positive response for their first U.S. performance since 1997.[4] 
Thomas Bangalter had initially been reported as saying that there would be a DVD of their recent live set. He later emphasized his reluctance for such a release, as the duo felt that online amateur videos of their performances were more compelling than anything captured professionally.[5]
Kavinsky, Sebastian, Ratatat, The Rapture, and Busy P were among the rotating support acts and openers for Alive 2007.
The 2007 edition continued to use the main setlist as the 2006 one, with the exception of the Encore that marked the 2007 leg.
Main setlist
Edit
"Human After All"/"The Prime Time of Your Life" (Para One Remix)/" Together"
Tour dates
Edit
Date
City
Country
Venue
Europe
June 10, 2007
Inverness
United Kingdom
RockNess Festival
June 14, 2007
Paris
France
Palais Omnisports Bercy
June 16, 2007
London
United Kingdom
O2 Wireless Festival
June 17, 2007
Leeds
O2 Wireless Festival
June 23, 2007
Istanbul
Turkey
Turkcell Kuruçeşme Arena
June 26, 2007
Nîmes
France
Arènes de Nîmes
June 29, 2007
Düsseldorf
Germany
Philipshalle
June 30, 2007
Berlin
Velodrom
July 4, 2007
Amsterdam
Netherlands
Heineken Music Hall
July 6, 2007
Esch-sur-Alzette
Luxembourg
Rockhal
July 8, 2007
Naas
Ireland
Oxegen Festival
July 12, 2007
Turin
Italy
Traffic Free Festival
North America, Leg #1
July 21, 2007
Los Angeles, California
United States
Memorial Sports Arena
July 27, 2007
Berkeley, California
Greek Theatre
July 29, 2007
Seattle, Washington
WaMu Theater
July 31, 2007
Morrison, Colorado
Red Rocks Amphitheatre
August 3, 2007
Chicago, Illinois
Lollapalooza Festival
August 5, 2007
Mississauga, Ontario
Canada
Arrow Hall
August 7, 2007
Montreal, Quebec
Centre Bell
August 9, 2007
Brooklyn, New York
United States
KeySpan Park
North America, Leg #2
October 27, 2007
Las Vegas, Nevada
United States
Vegoose Festival
October 31, 2007
Mexico City
Mexico
Palacio de los Deportes
November 2, 2007
Monterrey
Arena Monterrey
November 4, 2007
Zapopan
Auditorio Telmex
Japan
December 6, 2007
Kobe
Japan
World Memorial Hall (世界の記念館)
December 8, 2007
Chiba City
Makuhari Messe (幕張メッセ)
December 9, 2007
Australia
December 13, 2007
Melbourne
Australia
Sidney Myer Music Bowl
December 14, 2007
December 16, 2007
Perth
The Esplanade
December 20, 2007
Brisbane
River Stage
December 22, 2007
Sydney
Showground Main Arena
References
Edit
Community content is available under
CC-BY-SA
unless otherwise noted.