We're Getting Mutants in the MCU - The Loop
Play Sound

"Da Funk" is an instrumental track by Daft Punk initially released as a single in 1995 and later included on their debut album Homework. "Da Funk" and its accompanying video directed by Spike Jonze are considered classics of 1990s house music.[2] A reversed clip of "Da Funk" was also released on Homework as "Funk Ad", which is the final track on the album.
Background
"Da Funk" was initially released as a 12 inch single in 1995 under the Soma Quality Recordings label with the B-side "Rollin' & Scratchin'" and again in late 1996 after the band signed with Virgin Records with the B-side[3] "Musique", a track that later appeared in the album Musique Vol. 1 (1993-2005).
In an interview with Fredrik Strage for Swedish magazine Pop #23, Thomas Bangalter revealed that "Da Funk" was made after listening to Westcoast G-Funk for weeks.
"It was around the time Warren G.'s "Regulate" was released and we wanted to make some sort of gangsta-rap and tried to murk our sounds as much as possible. However no one has ever compared it to hip-hop. We've heard that the drums sounds like Queen and The Clash, the melody is reminiscent of Giorgio Moroder, and the synthesizers sound like electro and thousand of other comparisons. No one agree with us that it sounds like hip-hop"[4]
In September 2010 Pitchfork Media included the song at number 18 on their Top 200 Tracks of the 90s.[2] The song is also featured in the video game Top Spin 4.
B-side
Main article:Rollin' & Scratchin'
Main article: Musique
The B-Side Of Earlier Releases Of "Da Funk" is a Track Called "Rollin N' Scratchin" Which Is Featured On Homework.
The B-side of Later Releases Of "Da Funk" is an almost 7 minutes long track called "Musique", a small part which can be heard of in WDPK 83.7 FM, a short skit contained on Homework.
Music video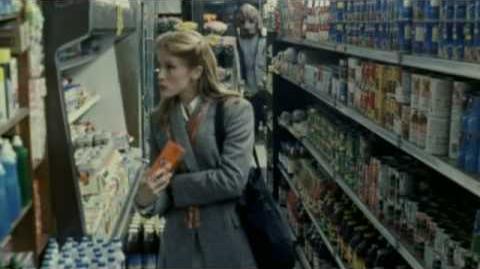 The track's music video was directed by Spike Jonze and entitled Big City Nights. It focuses on the character Charles (Tony Maxwell), an anthropomorphic dog in a leg cast with a crutch wearing urban clothing. Charles, who has lived in New York City for only one month, is shown walking around with a boombox blasting "Da Funk" at a high volume. His hobbled walk is made fun of by a pair of children. He is turned down when he attempts to participate in a public survey. His boombox annoys a bookseller on the sidewalk from whom Charles buys a paperback novel entitled Big City Nights. Charles meets a woman named Beatrice (Catherine Kellner), who was once his childhood neighbor. They agree to have dinner together at her home, traveling by way of a city bus. Beatrice boards the bus, but Charles is startled by a sign stating "NO RADIOS". As he is unable to turn off his boombox (which is earlier indicated to have a broken/missing volume button) he reluctantly remains at the bus stop, as the bus drives off with Beatrice.
Although the video has drawn several interpretations, Thomas Bangalter has stated:
| | | |
| --- | --- | --- |
| " | There's no story. It is just a man-dog walking with a ghetto-blaster in New York. The rest is not meant to say anything. People are trying to explain it: Is it about human tolerance? Integration? Urbanism? There's really no message. There will be a sequel someday.[5] | " |
"Fresh" video
Main article: Fresh
Charles would indeed return in the music video for the Daft Punk track "Fresh", which is also from Homework. In this video, he is an actor shooting scenes for a film set on a beach. When the day's shoot is over, he discusses techniques with the director and then runs into Beatrice; they have apparently become boyfriend and girlfriend. The two make plans to go to a restaurant for dinner. Charles gets into Beatrice's red convertible and they drive off into the sunset.
The concept for this video echoes that of the "Da Funk" video, in that the track is treated as nothing more than a score against which the story plays out. "Fresh" was directed by Daft Punk themselves; Jonze makes a guest appearance as the director of Charles' film. According to the D.A.F.T. audio commentary, Daft Punk wanted Charles to return in a happier environment, to cheer up fans who saw him in a depressing situation in the "Da Funk" video. This would see him enjoying an acting career, receiving compliments, and dating Beatrice.
Track listing
"Da Funk" (Side A) — 5:33
"Musique" (Side B) — 6:52

"Da Funk" (Side A) — 5:33
"Musique" (Side B) — 6:52

"Da Funk" (Short Edit) — 2:41
"Da Funk" (Long Edit) — 3:48
"Da Funk" (LP Version) — 5:32
"Ten Minutes of Funk" — 10:08
"Call Out Hook" — 0:10

"Da Funk" (Radio Edit) — 3:48
"Da Funk" — 5:33

12" maxi single (Soma 025)[6]

"Da Funk" (Side A) — 5:28
"Rollin' & Scratchin'" (Side B) — 7:26

CD maxi single (Virgin 8385872)[6]

"Da Funk" (Radio Edit) — 5:33
"Musique" — 6:52
"Ten Minutes of Funk" — 10:08

12" maxi single (Virgin 7243 8 38587 1 2)[6]

"Da Funk" (Radio Edit) — 5:33
"Musique" — 6:52
"Ten Minutes of Funk" — 10:08
Samples used
"Bounce, Rock, Skate, Roll" by Vaughan Mason and Crew[7]
"I'm Gonna Love You Just a Little More, Baby" by Barry White[8]
"Get It Up for Love" by Tata Vega (only in Ten Minutes of Funk remix)
And more
Statistics
On 2 April, 2008, the user Nerd42 posted the BPMs and keys of all the studio album songs of Daft Punk on The Daft Club > Daft Punk > Releases forum under the conversation "It's time we made some freakin lists." On this forum, it was concluded that Da Funk was around 111 BPM and in the key of G.
Trivia
In September 2010, Pitchfork Media included Da Funk at number 18 on their Top 200 Tracks of the 90's list.
Da Funk appeared in the game Top Spin 4 .
This song also appeared in the video game Just Dance 3 as a dance track.
"Da Funk" is featured in the game DJ Hero mixed with Queen's "Another One Bites the Dust", NASA's "Strange Enough" and in the "Daft Punk Megamix 2"
Appearances
The Saint (1997)
The Work of Director Spike Jonze (2003)
Danville 2nd Ward Young Men (2009-2013) (Episode: Game Night September 2009)
References
External links
 Media related to Da Funk at YouTube.