Random Access Memories is the fourth and final studio album by French electronic music duo Daft Punk. It was released by the duo's imprint Daft Life, under exclusive license to Columbia Records, on 17 May 2013. The album pays tribute to the late 1970s and early 1980s era of music in the United States, particularly the sounds that emerged from Los Angeles. This tribute was reflected in the gradual promotional rollout for the album that included billboards, television advertisements, and a web series.
Unlike their previous studio albums, Daft Punk recruited session musicians to perform live instrumentation in professional recording locations, and limited the use of electronic instruments to drum machines, a custom-built modular synthesizer, and vintage vocoders. The album features collaborations with Giorgio Moroder, Panda Bear, Julian Casablancas, Todd Edwards, DJ Falcon, Chilly Gonzales, Nile Rodgers, Paul Williams, and Pharrell Williams.
Random Access Memories is Daft Punk's most critically successful album, scoring 87/100 on Metacritic. In the 2014 56th Annual Grammy Awards, it won Grammy Awards for Album of the Year, Best Dance/Electronica Album and Best Engineered Album, Non-Classical, and lead single "Get Lucky" won for Record of the Year and Best Pop Duo/Group Performance. The album was a commercial success and debuted at number one in twenty countries. The duo has been inactive ever since, apart from their collaborations with The Weeknd on his tracks "Starboy" and "I Feel It Coming".
Background
Conception
Daft Punk began experimenting with material for a fourth studio album in 2008, while they were working on the Tron: Legacy score.[1][2] As Thomas Bangalter of the duo mentioned at the time: "Making music for a movie is very humbling. We've been working on some of our music concurrently."[2] The duo were dissatisfied with the Random Access Memories demos, in which synthesizers were prominently featured, so eventually decided to work with live musicians: "We wanted to do what we used to do with machines and samplers, but with people." They avoided the use of samples on the album, with the exception of the closing track "Contact".[1]
The idea was really having this desire for live drums, as well as questioning, really, why and what is the magic in samples? [...] It occurred to us it's probably a collection of so many different parameters; of amazing performances, the studio, the place it was recorded, the performers, the craft, the hardware, recording engineers, mixing engineers, the whole production process of these records that took a lot of effort and time to make back then.
—Thomas Bangalter, regarding the album's conception[3]
"
"
The album features Chic frontman Nile Rodgers, who commented that a collaboration was "something we've [Daft Punk and Rodgers] talked about for a long time. We've respected each other endlessly."[4] Daft Punk eventually visited Rodgers' home for an informal jam session, and an official collaboration was later confirmed and completed.[5] Singer-songwriter Paul Williams announced in a 2010 interview that he had worked with the group, after Daft Punk had been introduced to Williams by a sound engineer with whom they were mutually acquainted.[6][7][8]
In May 2012 Daft Punk's collaboration with Giorgio Moroder was announced—Moroder had recorded a monologue about his life for use in a track on the album. Rodgers was also present during the Moroder recording session.[9] Moroder clarified that he was not involved in the composition of the track or its use of a synthesizer: "They did not let me get involved at all. Thomas asked me if I wanted to tell the story of my life. Then they would know what to do with it."[10] Daft Punk had been in contact with Moroder in relation to a possible contribution for the Tron: Legacy score, but this never happened.[11]
Chilly Gonzales stated in an interview that his contribution was recorded in a one-day session: "I played for hours and they're gonna grab what they grab and turn it into whatever."[12] He explained that Daft Punk prompted him at the piano in the same manner that a film director coaches an actor, and Gonzales left the Los Angeles studio without knowledge of what the final product would sound like.[13] He had previously recorded a cover version of Daft Punk's song "Too Long" that appeared on the duo's 2003 album Daft Club.
Pharrell Williams collaborated with Daft Punk and Rodgers by providing vocals for two tracks on Random Access Memories.[1] As a member of The Neptunes, Pharrell had previously provided a remix of "Harder, Better, Faster, Stronger" that appeared on Daft Club. The Neptunes and Daft Punk also co-produced N.E.R.D.'s song "Hypnotize U".[14]
Recording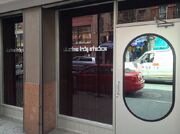 Recording took place at Henson Recording Studios, Conway Recording Studios and Capitol Studios in California, Electric Lady Studios in New York City, and Gang Recording Studio in Paris, France.[15] Daft Punk enlisted various musicians of the 1970s and 80s, which the duo consider the most appealing era. Bangalter clarified that "it's not that we can't make crazy futuristic sounding stuff, but we wanted to play with the past". The duo noted that the session players were enthusiastic to reunite in the context of the new album and the perceived elegance of the studio locations.[1]
Drummer Omar Hakim recalled being asked by Daft Punk to perform on the album, and was surprised by what they wanted of him. He at first assumed that the duo wanted electronic drum work, since Hakim had done some drum programming in his career. Daft Punk instead specified that they were looking to record Hakim performing acoustic drum riffs that the duo had conceived. Rather than play out the entire structure of a song, Hakim would perform individual patterns for extended periods, thus creating a library for the duo to cull from.[16] Daft Punk conveyed their ideas to session musicians via sheet music and in some instances by humming melodies.[17] Bangalter recalled an example in which he hummed a complex drum and bass line to Hakim, who replicated and improved upon it for the track "Giorgio by Moroder".[18]
Most of the vocal sessions took place in Paris, whereas the rhythm sections were recorded in the United States.[1] The album incorporates a variety of accompanying performances including a horn section, woodwind instruments, a string orchestra and choir.[19][20] Orchestral parts in particular were recorded for almost every track, but were only included on a few songs in the final product.[17] The use of such performers and places came at great monetary expense, as noted by Bangalter: "There used to be a time where people that had means to experiment would do it, you know? That's what this record is about."[19] He estimated a cost of over one million dollars, but felt that the number was not important.[21] Todd Edwards recalled that the microphone he sang on for his contribution to the album is "more than my car is worth" and had previously been used by Frank Sinatra.[22] Bangalter stated that the sessions were financed by Daft Punk themselves, which allowed them the luxury of abandoning the project if they had so wished.[23] He also specified that "there are songs on the album that traveled into five studios over two and a half years."[1]
Various sound effects were newly recorded with the help of film experts from Warner Bros. Bangalter noted one example in which the sound of a busy restaurant was achieved by placing microphones in front of the forks of a group of people. In another instance, the effect of dripping water was recorded on a soundstage.[24] Use of electronics was limited to drum machines that appear on only two tracks, a large custom-built Modcan modular synthesizer performed live by the duo, and vintage vocoders.[1][24] When asked which of the two Daft Punk members performed the robotic vocals on the album, Bangalter expressed that it did not matter.[19] The duo produced most of the vocoder tracks in their own private studio in Paris, with later processing done by Mick Guzauski at Capitol.[25] Moroder elaborated that Daft Punk would take "a week or so" to find an adequate vocoder sound, and an additional few days to record the lyrics.[26]
Although the duo felt that the presets and parameters of digital tools would inhibit creativity and innovation,[3] they admitted that Random Access Memories could not have been made in the complete absence of computer technology.[17] The sessions were recorded simultaneously onto Ampex reels and as Pro Tools tracks; Daft Punk and Guzauski would then listen to each recording in both analogue and digital iterations, deciding which of the two they preferred. Subsequently the elements were edited by the duo with Pro Tools in a manner similar to how they would work with samples.[25]
In an interview conducted in November 2012 by Guitar World magazine, Fourplay member Nathan East mentioned that he had contributed to the project.[27] The percussionist Quinn also stated that he performed on "every drum [he] own[s]" for the album.[28] Pedal steel guitar work on the record was performed by Greg Leisz. Daft Punk sought to use the instrument in a way that bordered between electronic and acoustic.[29] Additional session players include John "J.R." Robinson, Paul Jackson, Jr., James Genus, Thomas Bloch and Chris Caswell.[8][30][15][31]
Confirmation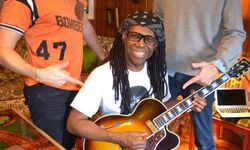 Prior to the release of Tron: Legacy Soundtrack, the composer Paul Williams stated that he was working with the band in an interview with Eddie Muentes.[32] In another one with Tracey Jackson, he confirmed once again his work, specifically working on the writing of some songs.[33]
In February 2012, Nile Rodgers, in an online interview, said that he was going to meet Daft Punk in his apartment in New York to discuss the duo's new album.[34]
Chilly Gonzales was later confirmed to have collaborated with the band on the project, while it has been said that Panda Bear has as well.
In May 2012, in an interview with the Italian artist Giorgio Moroder he said he was working with Daft Punk in Paris. Moroder stated:
"Thomas wanted me to talk about my life, and I said 'And what are you going to do with it?', and he [Bangalter] said 'Oh you just talk and we are going to snip it in the stuff'. So I came to Paris in the studio and he had three microphones to record me, they were different microphones, and I said 'Why do you have three? Is not one enough?' and then he said 'This one in here -a very old microphone of the '60-, if you talk about your life around the '60, this is how the microphone is going to sound. Then, if your going to talk about the '70, you have the second microphone'. And then I asked the sound engineer, 'Is anybody ever, be able to distinguish the different sounds?', he said 'No', then I replied 'Then why?' which he responded 'Well, he knows the differences.'"[35]
On Feburary 26, 2013, Daft Punk updated their website with a new image, confirming a new album and collaboration with Columbia records.
On March 2, 2013, Daft Punk released a 16 second teaser through a Saturday Night Live advertisement.
On April 11, 2013, Daft Punk played a teaser for their 4th album at Coachella, confirming that Panda Bear, Julian Casablancas, Pharrell, and others are working on the album.
On April 13th, 2013. A minute long teaser aired during SNL. Similiar to the Coachella teaser.
On April 19th, 2013. "Get Lucky" was officially released and available on many platforms such as iTunes.
On August 13th, 2013. "Lose Yourself to Dance" was officially released.
Track listing
The following is the tracklist presented in the standard edition of the album, released worldwide. With the exception of the Japanese version, which included a new exclusive track, Horizon.[36]
Japan bonus track
No.
Title
Length
14.
"Horizon"
4:24
Total length:
1:18:48
Speculation
Many speculated that Daft Punk would probably release their new album on Sep. 9, 2009 since in the Daft Punk mythos, they became robots after an accident with their sampler on "Sep. 9, 1999 at 9:09 am". Some rumors after Electroma's Opening Night in Paris said that Daft Punk would start recording a new album after their 2007 tour. On May 28, 2008, Busy P, former manager of Daft Punk, revealed that Daft Punk were currently in the studio, but it was later mentioned that Daft Punk disliked all of the material they had initially put together and scrapped all of the work.
There was speculation after Tsugi Magazine included a "Daft Punk" song under the name "Renoma Street" to be released the 21st of July. The supposed song was later revealed to be "a little joke" from the editors, disappointing many fans, and ending the hype.
On 26 February 2013, Daft Punk's official website and Facebook page announced the signing to Columbia with a picture of the duo's helmets, and a "Columbia" logo in the corner.[37] Billboards and posters featuring the helmets and logo then appeared in several major cities.[38]
On 2 March, a 15-second television ad aired during Saturday Night Live (SNL) depicting an animated, stylized version of the band's logo and the aforementioned image of the helmets.[39] A second TV ad also premiered that was similar to the first on Saturday Night Live, but with a different music clip and the title Random Access Memories in place of the stylized Daft Punk logo.[40] During the first night of Coachella Festival 2013, a third trailer debuted that featured Daft Punk, Pharrell Williams and Rodgers performing, as well as a list of collaborators on the album.[41]
The first single from the album, "Get Lucky" was released on April 19th, 2013, on iTunes and Amazon.
Collaborators
Following artists were collaborating with Daft Punk for Random Access Memories[42][43][44]:
| Artist | Type |
| --- | --- |
| Giorgio Moroder | Italian record producer, songwriter and performer. |
| Nile Rodgers | American musician, producer, composer, arranger, and guitarist. |
| Paul Williams | American composer, musician, songwriter, and actor. |
| Chilly Gonzales | Canadian musician, pianist, producer, and songwriter. |
| Panda Bear | American experimental musician and a founding member of Animal Collective. |
| Nathan East | American bass player and vocalist. |
| Pharrell Williams | American rapper, record producer, and a founding member of N.E.R.D and The Neptunes. |
| Todd Edwards | American house and garage producer. |
| DJ Falcon | French DJ and record producer. |
| Julian Casablancas | American musician, singer, songwriter, and frontman of The Strokes . |
| John "J.R." Robinson | American drummer and session musician. |
| Omar Hakim | American jazz, jazz fusion and pop music drummer. |
| Paul Jackson Jr. | American fusion/urban jazz composer, arranger, producer and guitarist. |
| Quinn | Drummer and percussionist.  |
| Chris Caswell | American keyboardist. |
References
↑ 1.0 1.1 1.2 1.3 1.4 1.5 1.6 Weiner, Jonah (13 April 2013). Exclusive: Daft Punk Reveal Secrets of New Album. Rolling Stone. RollingStone.com. Retrieved on 13 April 2013. "Without warning, a nearly two-minute video popped up on jumbotron screens flanking the festival's various stages, in which Pharrell Williams, Nile Rodgers and the Daft Punk robots rock out in heavily sequined getups to 'Get Lucky'"
↑ 2.0 2.1 Lee, Chris (6 January 2011). Tron: Legacy's orchestral score reveals a new side of Daft Punk. Pop Matters. PopMatters.com. Retrieved on 7 April 2013.
↑ 3.0 3.1 Mason, Kerry (6 May 2013). Daft Punk on EDM Producers: 'They're Missing the Tools'.

Billboard

. Retrieved on 7 May 2013.
↑ Tregoning, Jack (23 March 2013). Exclusive: Daft Punk's new album Random Access Memories is 'smoking'. In The Mix. InTheMix.com. Retrieved on 30 March 2013. "[Nile] Rodgers has one word for the final product: 'It's smoking.'"
↑ Mann, Tom (3 March 2012). Chic: Interview with Nile Rodgers. Faster Louder. FasterLouder.com. Retrieved on 31 March 2012.
↑ Phillips, Amy and Battan, Carrie (16 September 2011). Listen: Lost Daft Punk Track 'Drive'. Pitchfork Media. "Plus: Daft Punk apparently collaborating with songwriting legend Paul Williams"
↑ Muentes, Eddie (14 July 2010). Paul Williams on Hit Records Nightlife Video hosted by Eddie Muentes (

YouTube

video). YouTube. Retrieved on 5 April 2013.
↑ 8.0 8.1 Ghosn, Joseph, and Wicker, Olivier (18 April 2013). Daft Punk Revient Avec Random Access Memories

(French)

. Obsession. Retrieved on 18 April 2013. "Exclu: Les morceaux de Random Access Memories commentés par Daft Punk."
↑ Giorgio Moroder Recorded With Daft Punk. URB Magazine (25 May 2012). Retrieved on 10 February 2013.
↑ Giorgio Moroder Discusses His Contribution to Daft Punk's Random Access Memories. exclaim.ca (15 May 2013). Retrieved on 16 May 2013.
↑ Azoury, Philippe (27 April 2013). Daft Punk Héritiers very disco

(French)

. Obsession. Retrieved on 28 April 2013.
↑ Field Day Radio Episode 10. Field Day Festival (2 June 2012). Archived from the original on 25 September 2012. Retrieved on 10 February 2013.
↑ Courveille, Guillaume (27 March 2013). Gaillac. Chilly Gonzales: "Je suis un homme de mon temps"

(French)

. La Depeche. LaDepeche.fr. Retrieved on 15 April 2013.
↑ Tom Breihan (29 September 2010). Daft Punk Produce New N.E.R.D. Track. Pitchfork. Pitchfork Media. Retrieved on 21 May 2013.
↑ 15.0 15.1 Random Access Memories (liner notes). Daft Punk. Columbia Records, a division of Sony Music Entertainment. 2013.
↑ Drummer Omar Hakim: Getting Lucky with Daft Punk on Youtube Retrieved on 6 January 2014.
↑ 17.0 17.1 17.2 Dombal, Ryan (14 May 2013). Cover Story: Daft Punk. Pitchfork Media. Pitchfork.com. Retrieved on 14 May 2013.
↑ Dombal, Ryan (15 May 2013). Daft Punk: Cover Story Outtakes. Pitchfork. pitchfork.com. Retrieved on 15 May 2013.
↑ 19.0 19.1 19.2 Baron, Zach (May 2013). "Daft Punk Is (Finally!) Playing at Our House". GQ 83 (5): 76–82. http://www.gq.com/entertainment/music/201305/daft-punk-random-access-memories-profile-gq-may-2013.

 

↑ Stevenson, Nick (April 30, 2013). Nick Stevenson: Random Access Memories Review. Mixmag. Retrieved on May 5, 2013.
↑ Weiner, Jonah (21 May 2013). Daft Punk: All Hail Our Robot Overlords. Rolling Stone. Retrieved on 21 May 2013.
↑ Warren, Emma (May 2013). Todd Edwards – Red Bull Music Academy. Red Bull Music Academy. Retrieved on 18 May 2013. "57:58 – Thomas wanted me to see if I could put some cut-ups in there [...] he gave me like the biggest compliment because he's like [...] you actually helped kinda save the track [...] because it was so contemporary sounding, it didn't have any vibe that was kind of along the electronics line."
↑ Cite error: Invalid <ref> tag; no text was provided for refs named NouvelObs
↑ 24.0 24.1 Mason, Kerry (10 May 2013). Daft Punk: How the Pioneering Dance Duo Conjured Random Access Memories.

Billboard

. Billboard.com. Retrieved on 10 May 2013.
↑ 25.0 25.1 Tingen, Paul (July 2013). "SOS Interview: Recording Random Access Memories".

Sound on Sound

(USA) 28 (9). http://www.soundonsound.com/sos/jul13/articles/daft-punk.htm.

 

↑ Cite error: Invalid <ref> tag; no text was provided for refs named collaborators1
↑ Wood, James (29 November 2012). Interview: Bassist Nathan East Discusses Fourplay's New Album and His Days with Eric Clapton. Guitar World. GuitarWorld.com. Retrieved on 21 December 2012.
↑ Quinn (Orison Music) LinkedIn. Retrieved on 6 April 2013.
↑ Perron, Erwan, and Gancel, Alice (7 April 2013). Daft Punk, interview-fleuve pour la sortie de Random Access Memories

(French)

. Telerama. telerama.fr. Retrieved on 7 April 2013.
↑ Cite error: Invalid <ref> tag; no text was provided for refs named RockAndFolk
↑ Chris 'Kazz' Caswell – Conductor/Musician (26 April 2013). Retrieved on 26 April 2013.
↑ http://houston.culturemap.com/newsdetail/02-06-12-disco-legend-talks-about-cancer-broadway-and-possible-plans-to-record-daft-punks-next-album/
↑ Phillips, Amy and Snapes, Laura (26 February 2013). "Daft Punk Confirm Alliance With Columbia". Pitchfork Media. Retrieved 26 February 2013.
↑ Batte, Elliott (20 March 2013). "Daft Punk Posters Pop Up Across the Globe – Album and Tour Just Around the Corner?". Stereoboard.com. Retrieved 9 April 2013.
↑ Phillips, Amy (2 March 2013). "Watch: Daft Punk Air Mysterious Advertisement During "Saturday Night Live"". Pitchfork Media. Retrieved 24 March 2013.
↑ Gensler, Andy (24 March 2013). "Daft Punk 'Get Funky' in New Teaser Ad for Random Access Memories". Billboard. Retrieved 30 March 2013.
↑ Phillips, Amy (12 April 2013). "Daft Punk Confirm Julian Casablancas, Panda Bear, Pharrell, More Collaborations with Coachella Video". Pitchfork Media. Retrieved 13 April 2013.
External links