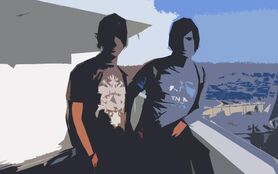 The Third Twin is a musical duo comprised of twin brothers Yvan and Virgile de Homem-Christo, who are rumored to be the nephews of Guy-Manuel de Homem-Christo, one of the members of Daft Punk.
heavily influenced by Daft Punk. Their identity must remain secret. They go under the names: Yvan and Virgile de Homen Christo. They started to make music in the summer of 2010 in their basement. They made their first album, Homemade, using old DJ equipment from their father.
In 2011 they broadcasted several live shows on justin.tv and released 8 new songs (albums Direkttt and Live) and a remix of Euphoria #7.
They also 'unreleased' about 10 new tracks of the album Revolution that were never finished. Only bad quality live records exist.
26-12-2011 they announced they choose different careers and stopped broadcasting.
They disappeared as fast as they once appeared.
They announced they will disband in they Facebook page at the ending of 2011, stating that the main reasons were due school's education. The group left one album without released, called Revolution, which was planned for a release in 2012.
The Third Twin has three releases, all of which were released for free on last.fm.
Homemade (2010)
Direkttt (2011)
LIVE (2011)
Revolution (Unreleased)
Community content is available under
CC-BY-SA
unless otherwise noted.